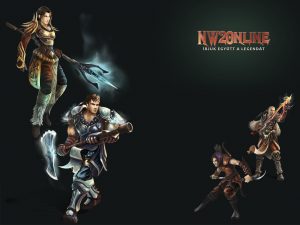 The world of NW2Online play's in a planet called "Karzer". It has a unique story, world and graphical elements (You can read the story of Karzer here: https://www.nw2online.com/game-guide/history)
NW2Online is an Online Fantasy MMORPG. It has 4 main characters. These are the default fantasy characters like in any other game: Warrior, Mage, Rogue, Ezra (It is a dark witch, who has mostly magical skills).
You can download the game here: https://www.nw2online.com/downloads
The artwork is copyrighted under Reg. No. 008064. at Hungarian Intellectual Property Office.